A Newsletter for the Members of the Rhode Island Chapter - Spring 2019 

Catherine A. Cummings, MD, FACEP
President
Marc Bialek
Executive Director
401.331.1337 | Website
President's Message
Catherine A. Cummings, MD, FACEP
Thank you all for the support and hard work you devote to Rhode Island ACEP and the advocacy that you do for Emergency Medicine. Please come celebrate this work at the Annual Meeting in Newport on June 19.
I didn't believe them at the time, but several past presidents of RIACEP told me that taking on this challenging role would be one of the highlights of my career. Now, having done this, I couldn't agree more and I also see at the end of my tenure, that there is so much more to be done, and Otis Warren is ready with great ideas and enthusiasm. READ MORE
Sepsis Laws
Otis Warren, MD
President-Elect, RIACEP
In 2017, New York enacted a law requiring hospitals to publicly report their sepsis performance metrics. "Rory's Law" was named for Rory Staunton, a boy who died of an overwhelming beta-hemolytic strep infection. This law specifically mentions fluid boluses, pressors and antibiotics amongst other components.
This year, similar bills were introduced in RI. While the intention of this type of legislation seems well meaning- to improve care of patients, this is not something that should be legislated. READ MORE
Education Committee Update
Jeffrey Feden, M.D., FACEP
Chair, Education Committee
Thanks to all who attended the March general membership meeting at Dave & Buster's featuring our inaugural IGNITE session. And a very special thanks to those courageous members that shared center stage with their entertaining presentations:
James O'Neill, DO – Off-label Use of High-dose Naloxone in Clonidine Overdose
Victoria Leytin, MD – Climate Change and Emergency Medicine 
Joseph Pepe, DO – Fascia Iliaca Compartment Blocks in the ED 
Josh Kaine, MD – Visual Diagnosis: A Toxic Rainbow 
Matthew Lombardi, DO – Research and Education of Bystander CPR/AED Use and First Aid Skills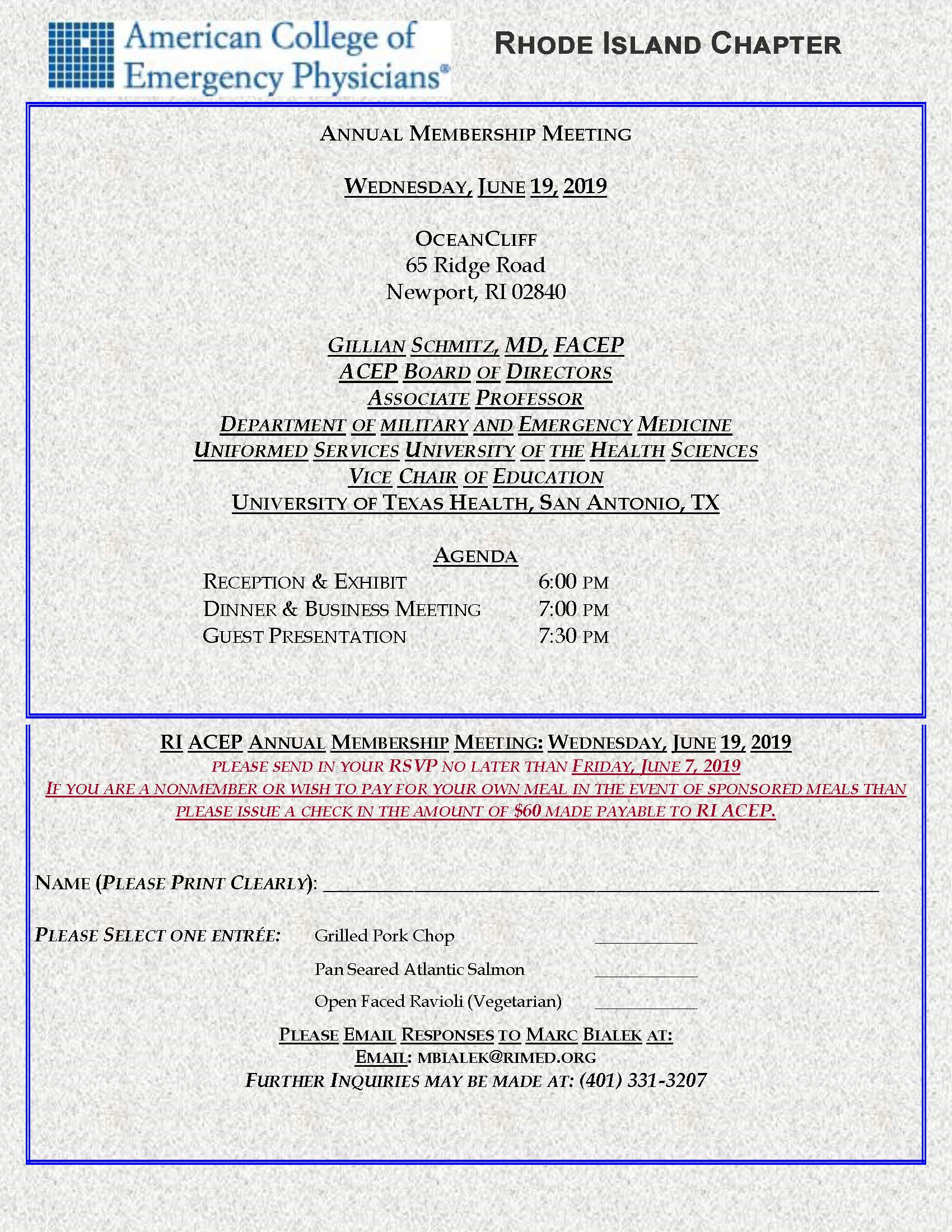 EMRA Updates:
EMRA is current collecting submission for their "45 under 45" list. This is a list of leaders in Emergency Medicine who are under the age for 45, and is in honor of our 45th anniversary. Anyone who makes an impact in emergency medicine at a local, state, national level is eligible to be nominated, they just have to be under 45 years old. Complete this simple nomination form by July 15, 2019.
RI Advocacy Update:
Rhode Island's second annual emergency medicine advocacy day was March 13th and it was a huge success. We learned about the hard work ACEP is doing in DC on surprise bills, and advocated for expanded CPR education. The advocacy work is never done, and we are already planing our event for next year. If you would like to be involved, please e-mail Scott Pasichow.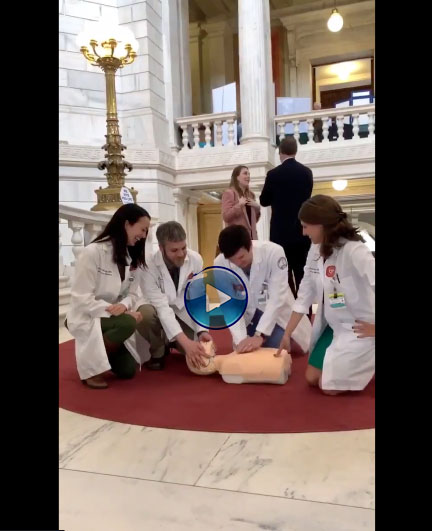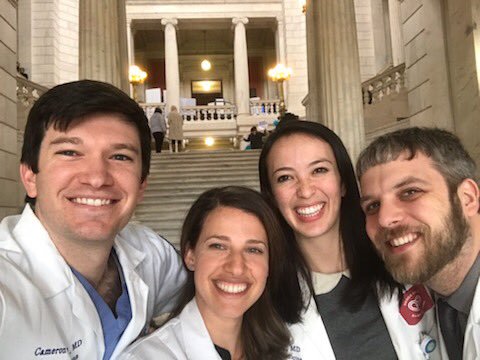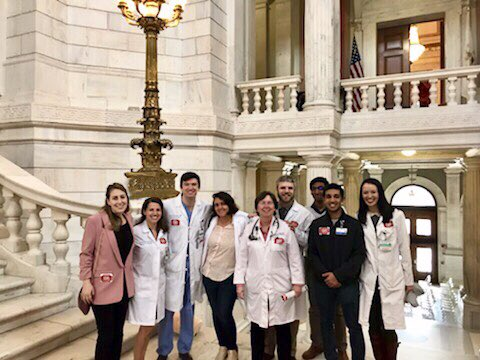 FROM NATIONAL ACEP

States Find Tool for Quick Legislative Response
Harry J. Monroe, Jr. Director, ACEP State and Chapter Relations 
Those of us that work on state legislation often struggle with the pace of activity, particularly as deadlines approach for bills to get out of committee or as the end of the session nears. When ACEP rolled out engagED as a new social media platform for member communication and collaboration, I am not sure that it was really thought of as a new tool for advocacy efforts, but its value has been shown by at least a couple of chapters. READ MORE
New Policy Statements, PREP and Information Paper
During their April 2019 meeting, the ACEP Board of Directors approved the following new or revised policy statements/PREP/information paper:
New Policy Statements: 
Salary and Benefits Considerations for Emergency Medical Services Professionals
Small Motorized Recreational Vehicles
Violence Prevention and Intervention in Emergency Medical Services Systems 
Revised Policy Statements:
Revised Policy Resource and Education Papers (PREPs): 
Resource Utilization in the Emergency Department: The Duty of Stewardship  
New Information Paper: 
Articles of Interest in Annals of Emergency Medicine - Spring 2019
Sam Shahid, MBBS, MPHPractice Management Manager, ACEP
ACEP would like to provide you with very brief synopses of the latest articles and articles coming soon to Annals of Emergency Medicine. Some of these have not appeared in print. These synopses are not meant to be thorough analyses of the articles, simply brief introductions. Before incorporating into your practice, you should read the entire articles and interpret them for your specific patient population. View synopses here.
Point of Care Tools
ACEP's point-of-care tools are transforming care at the bedside. We've recruited the field's top experts and thought-leaders to develop tools our members can trust and deploy in the clinical setting. The evidence-based, clinical content provided in these tools ensures that you are providing the best possible care to the patients in your emergency department. Tools can be found on topics:
 AFIB – Management of Atrial Fibrillation
ADEPT – Confusion and Agitation in the Elderly 
BUPE – Use of Buprenorphine in the ED 
DART – Recognition and Treatment of Sepsis
ICAR2E – Identification of Suicidal patients
And more..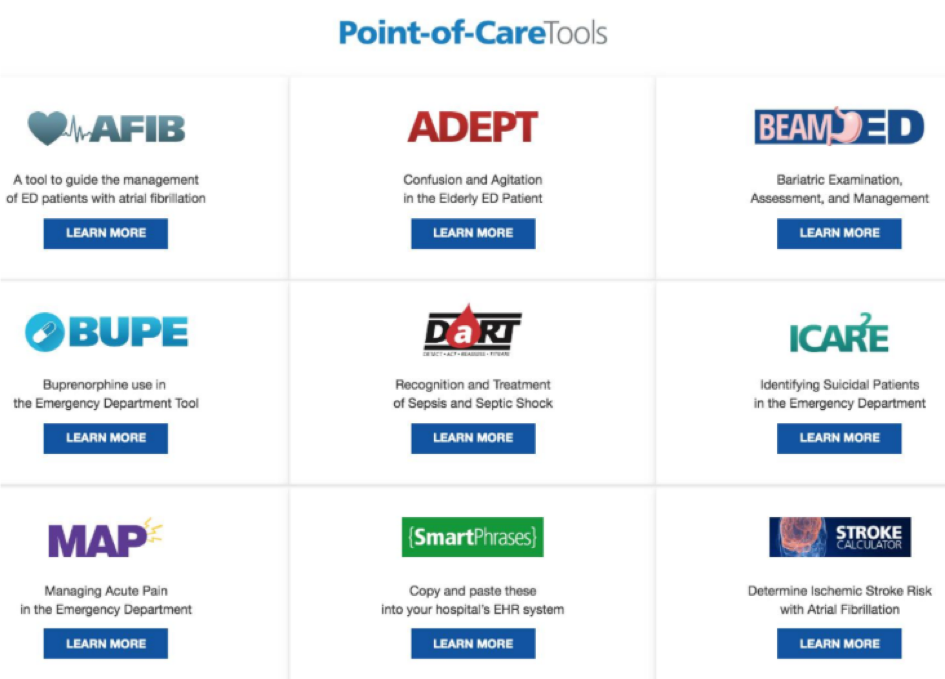 Registration open for the ACEP/CORD Resident's Teaching Fellowship
Do you have a resident aspiring to an academic career? Want to give them the jump start they need?  Spots still open for the ACEP/CORD Residents Teaching Fellowship this fall (Aug. 6-8 2019) – sign up soon as these seats go fast! Register here. 
Registration Open for the EMBRS Course
Emergency Medicine Basic Research Skills (EMBRS) is a 9-day, 2-session program where participants learn how to identify clinical research opportunities and become familiar with clinical research and outcomes. Participants are also eligible to receive an EMF/EMBRS grant based on their research grant application. Click here to learn more or email ACEP's Academic Affairs to register.  The next course will take place Dec. 2-7th, 2019 (session 1) and April 14-16, 2020 (session 2) in Dallas, Texas. 
Rhode Island Chapter ACEP
Rhode Island Medical Society
405 Promenade St, Suite A
Providence, RI 02908
© 2020 RIACEP Chapter ACEP. All rights reserved.