A Newsletter for the Members of the Tennessee College of Emergency Physicians - Spring 2019 

Sullivan K. Smith MD, FACEP
President
Christine Lenihan
Executive Director
615.460.1653 | TCEP Website
2019 Leadership and Advocacy Conference Summary
Thom R. Mitchell, MD, FACEP
One of my favorite events each year is the American College of Emergency Physician Leadership and Advocacy Conference (LAC). It was held in Washington D.C. at the Grand Hilton May 5-8. This is a recently renovated hotel located in downtown Washington just blocks from the Mall and many of the monuments and museums, not to mention great eateries. There were 550 attendees this year representing 47 different states. The delegation from Tennessee was 12 members and included a resident from the Vanderbilt Emergency Medicine training program (which you helped fund). Read full summary.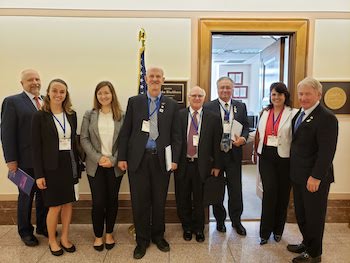 FROM ACEP

States Find Tool for Quick Legislative Response
Harry J. Monroe, Jr. Director, ACEP State and Chapter Relations 
Those of us that work on state legislation often struggle with the pace of activity, particularly as deadlines approach for bills to get out of committee or as the end of the session nears. When ACEP rolled out engagED as a new social media platform for member communication and collaboration, I am not sure that it was really thought of as a new tool for advocacy efforts, but its value has been shown by at least a couple of chapters. READ MORE
New Policy Statements, PREP and Information Paper
During their April 2019 meeting, the ACEP Board of Directors approved the following new or revised policy statements/PREP/information paper:
New Policy Statements: 
Salary and Benefits Considerations for Emergency Medical Services Professionals
Small Motorized Recreational Vehicles
Violence Prevention and Intervention in Emergency Medical Services Systems 
Revised Policy Statements:
Revised Policy Resource and Education Papers (PREPs): 
Resource Utilization in the Emergency Department: The Duty of Stewardship  
New Information Paper: 
Articles of Interest in Annals of Emergency Medicine - Spring 2019
Sam Shahid, MBBS, MPHPractice Management Manager, ACEP
ACEP would like to provide you with very brief synopses of the latest articles and articles coming soon to Annals of Emergency Medicine. Some of these have not appeared in print. These synopses are not meant to be thorough analyses of the articles, simply brief introductions. Before incorporating into your practice, you should read the entire articles and interpret them for your specific patient population. View synopses here.
Point of Care Tools
ACEP's point-of-care tools are transforming care at the bedside. We've recruited the field's top experts and thought-leaders to develop tools our members can trust and deploy in the clinical setting. The evidence-based, clinical content provided in these tools ensures that you are providing the best possible care to the patients in your emergency department. Tools can be found on topics:
 AFIB – Management of Atrial Fibrillation
ADEPT – Confusion and Agitation in the Elderly 
BUPE – Use of Buprenorphine in the ED 
DART – Recognition and Treatment of Sepsis
ICAR2E – Identification of Suicidal patients
And more..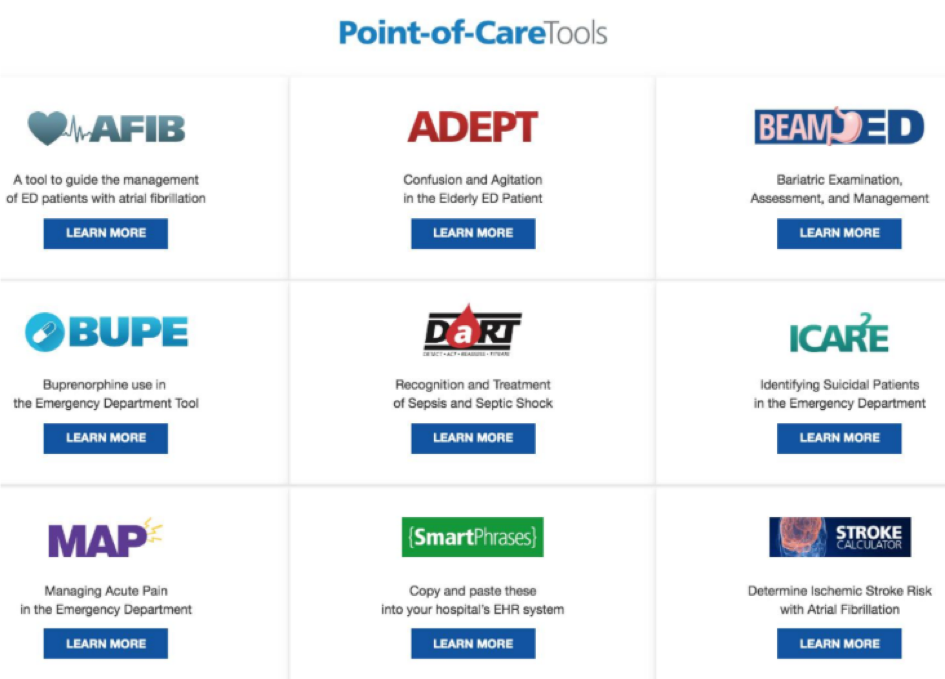 Registration open for the ACEP/CORD Resident's Teaching Fellowship
Do you have a resident aspiring to an academic career? Want to give them the jump start they need?  Spots still open for the ACEP/CORD Residents Teaching Fellowship this fall (Aug. 6-8 2019) – sign up soon as these seats go fast! Register here. 
Registration Open for the EMBRS Course
Emergency Medicine Basic Research Skills (EMBRS) is a 9-day, 2-session program where participants learn how to identify clinical research opportunities and become familiar with clinical research and outcomes. Participants are also eligible to receive an EMF/EMBRS grant based on their research grant application. Click here to learn more or email ACEP's Academic Affairs to register.  The next course will take place Dec. 2-7th, 2019 (session 1) and April 14-16, 2020 (session 2) in Dallas, Texas. 
Tennessee College of Emergency Physicians
Tennessee Medical Association
701 Bradford Ave
Nashville, TN 37204
© 2019 Tennessee College of Emergency Physicians. All rights reserved.